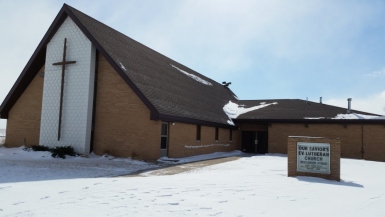 Worship Report - November 21st
| | | | |
| --- | --- | --- | --- |
| | | | |
| General Fund | $1640.00 | | |
| Missions | $220.00 | | |
| | | | |
| | | | |
| | | | |
| | | | |
| Total: | $1860.00 | | |
| | | | |
| Attendance: | Church | Parking Lot | Online |
| | 45 | 0 | 36 |
| | | | |
| | | | |
Copies of "A Centennial History of the Dakota-Montana District" are available on the table in the fellowship hall. There is a suggested donation of $15.00 to the General Fund if you would like a copy.
Christmas Eve service parts for the children will be distributed today during Sunday School. If you would like your children to participate in the Christmas Eve service, please see Pastor Nelson.
Please consider signing up to serve refreshments after church. There is a sheet in the fellowship hall.
You can still designate your Thrivent Choice Dollars. For more information please see Pastor Nelson.
If you still have a Thrivent Action Grant you would like to use this year, see Pastor Nelson.
Advent Calendars are available in the fellowship hall. Please help yourself.
Upcoming events in November:
December 1 - Confirmation at 6:00 PM
Advent by Candlelight, St. Martin's, Watertown 7:00 PM
December 4 Advent by Candlelight, Peace Lutheran Church, Milbank 6:30 PM
December 5 - Great Plains Sunday – Presentation following service
Ladies' Aide meets after worship
Christmas Eve worship practice begins
Great Plains Christmas Concert, 3:00 PM
December 8 - Confirmation at 6:00 PM
Church Council meets at 7:30 PM
December 12 - Christmas Eve practice after worship.
Church Christmas Dinner-to-go, and congregation meal in fellowship hall.
December 15 - Confirmation at 6:00 PM
December 19 - Christmas Eve practice after worship
December 22 - Confirmation at 6:00 PM
December 24 - Christmas Eve Worship 7:00 PM
December 25 - Christmas Day Song Service 9:00 AM
December 26 - Regular Sunday Service 9:00 AM
The Week Ahead
| | |
| --- | --- |
| Wednesday: | Confirmation 6:00 PM |
| | Advent by Candlelight, St. Martin's, Watertown 7:00 PM |
| | |
| | |
| Sunday: | Worship with Communion 9:00 AM (Parking Lot, Church, Online) |
| | Communion Elder: Jon Meyer |
| | |
| | |
| | |