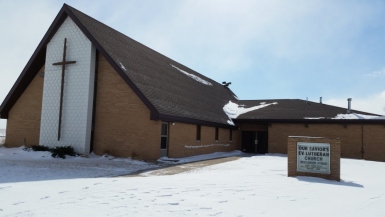 Worship Report
| | | | |
| --- | --- | --- | --- |
| | | Mar 8 | Mar 11 |
| General | | $1265.00 | $210.00 |
| Missions | | $60.00 | $140.00 |
| | | | |
| | | | |
| | | | |
| | | | |
| Total: | | $1325.00 | $350.00 |
| | | | |
| Attendance: | | 49 | 46 |
| | | | |
| | | | |
| | | | |
Ever wondered about how Christianity stacks up against the other religions of the world? We are starting a new Bible Study next week that will examine the basic teachings of Christianity and compare them to the teachings of other world religions. This course will establish basic patterns that flow through all non-Christian religions and why they lead to a DEAD end.
Parents, don't forget to pick up your copy of "Parents Crosslink" from the table in the fellowship hall. A great resource with wonderful Christian advice for families.
New copies of Meditations are still available - pick up your copy today. Or visit wels.net for your daily devotions. The daily devotions are right on the home page. You can also put the WELS app on your mobile device. Use your browser to go to wels.app. There will be an option to add the WELS app to your home screen.
If anyone is interested in a ride to the Spring LWMS Rally in Sioux Falls on April 4th, please contact Mavis Taecker at 756-4908.
The Week Ahead